20 December 2020

Club activities temporarily suspended

Following the current guidelines around COVID-19 from the British Government and British Cycling, we are temporarily suspending all club activities, this means, the club won't be running the weekend rides or the Regent's Park sessions. We, however, encourage our members to stay active and ride responsibly during this period, following the current guidelines. Please keep an eye on new announcements, activities and challenges on our forum.
========================================
We have rides during the week at Regent's Park and our weekend rides on
Saturday and Sunday, offering different options for distance and pace.
Our weekly rides
Saturday
We meet from 8:30 am for pre-ride coffees and depart at 9:00 am. Our meeting point on Saturdays is Coffee Break in Winchmore Hill.
Distance: About 45 miles/72km
Pace: 14-16mph/22-25kph 16mph/25kph+
We split into groups depending on availability of leaders and who turns up.

There are also ad hoc early bird rides from Boots in Whetstone, keep an eye on our Facebook group for more details.
Sunday
Meet 8:00 am at Amici's, East Finchley for pre-ride coffees. Depart 8.30am sharp from Budgens East Finchley (over the road).
Distance: About 60 miles/95km
Pace: 15-18mph/24-28kph We split into groups depending on availability of leaders and who turns up.
Regents Park sessions (meet at the big gates of the inner circle)
Wednesdays and Fridays, 7:00 am: 1 hour of 'chat laps' around Outer Circle, followed by coffee in Benugos cafe in the Inner Circle
Tuesdays 6:30-8:00 am: members-only race training with coach Ian 'Watto' Watson (6.30-7.15 Outer Circle, 7.15-8 Inner Circle)
Thursdays, 6:30-8:00 am : 1 hour of faster chaingangs, plus 30 mins recovery, then coffee at 8am
What we do?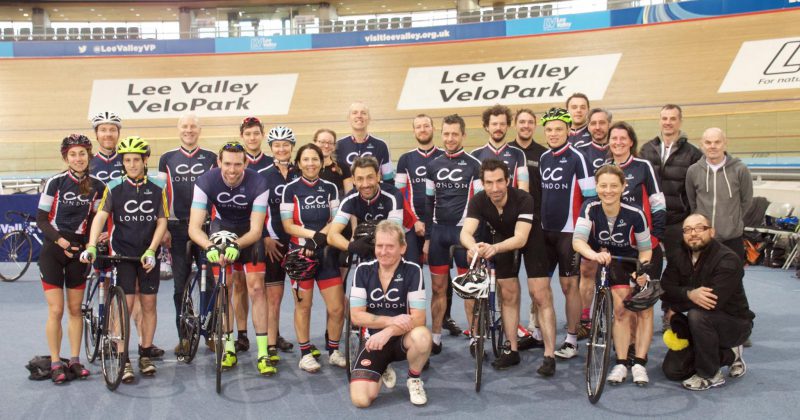 Road – regular club rides and laps at Regents Park
Races – we organise a road race every year (men and women), plus some crits at the cycle centre in Ilford
Time trials – we organise club time trials (open to everyone). We encourage members to volunteer for these, and enter other clubs' events. We also run an annual Hill Climb at Mott Street (Epping Forest) – pain faces obligatory!
Cyclocross – regular rides in the autumn/winter
MTB
Track – regular sessions at the Lea Valley velodrome, so you can try your hand at riding the boards. Many members are accredited and race the track league